Now that we have almost completed our
dejunking
of the house, we can finally begin to set our sights on creating Colton's official playroom. I am so excited to get this project started. Not only do I love the prospect of designing a new room, but mainly, I can not wait until his toy's are safely out of sight and our living room can be reclaimed as an adult space.
I have spent hours scouting the web for inspiration and have rounded up some great ideas. The walls down there are painted a nice gray that I think I will keep. To jazz it up a bit more, I plan to add lots of splashes of bright colors, mainly blues, greens, and yellows. I love this mobile, and even if I don't eventually incorporate it, this is the colors I have in mind:
The crucial element of our playroom will be storage. I love, love, love the look of this storage arrangement and at one point had considered trying to build the shelves myself. Josh, though, has convinced me that this is a terrible idea, so instead I think we will be off to IKEA to purchase a few sets of Expedit shelves.
Another element I want Colton's future playroom to have is some sort of creative space. We already have this
table
, but I want more! I love this idea of a magnetic and chalkboard wall.
And to go with that lovely magnet wall, we need some magnetic letters to play with. I saw these a few months ago on Young House Love, but then remembered them this weekend when doing my search. They've already been ordered, in colors just for Colton:)
Another element I want to include in Colton's future playroom is some sort of display wall. True, his only "art" right now consists of scribbling on the placemats at restaurants (although that in itself is a huge accomplishment...just last month, he still thought the crayons were for snacking!), but I know it won't be long before our budding Picasso starts creating tons of priceless pieces. This image is from Pottery Barn Kids, but I plan to create a snazzier, cheaper DIY option:
And lastly, maybe it's the teacher in me, but I feel like our playroom MUST have an alphabet line. (by the way...is that just me?) Again, I love this DIY option and can't wait to get cracking on my own:
We need some art for the room (it's a huge room, so we've got a lot of space to fill). I am completely in love with this art from Land of Nod and think the playroom would be the best place for it. BUT...again, I plan to DIY the thing:
And finally (I promise), I have been drooling over this CB2 abacus since it first appeared in the catalog. Definitely not spending $150 for the thing, though, so again it will be time for some DIY action: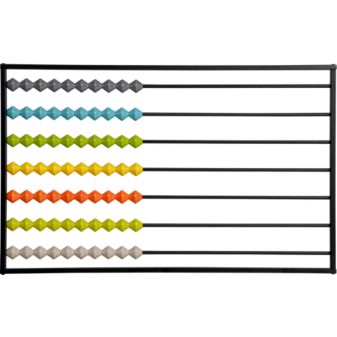 And now that the room is done, I am happy to report that we incorporated most of these elements in some way (in a
very
budget-friendly way!). Go check it out
here
!