Football season has officially started. Even though the Steelers were absolutely pathetic last weekend, the boys and I are ready to give them another try Monday night (Josh, stubbornly, is a Falcons fan). But more excitingly, we have the first ODU tailgate of the season this Saturday.
ODU is a relatively new football program, and this is only the fourth year of tailgates. But we have been there from the beginning, and since I have pretty much been blogging that whole time as well, I have usually shared my tailgating recipe successes with you all . As I was combing through tailgate recipes of yore trying to come up with my contributions for this week's party, it dawned on me that it may be helpful to have all the recipes in one place.
So here they are (sides, desserts, dips, all mixed up) for your football-accompanying (or not) pleasure:
Baked Potato Salad
: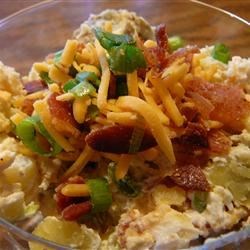 Ramen Coleslaw

Buffalo Chicken Dip
Chicken Puffs
:
Caramel Crunch Bars
Cake Batter Rice Krispie Treats
Guacamole
Pumpkin Roll
Ranch Potato Bake
Crack Dip
Potato Casserole
Hot Cheese Dip
Happy football viewing everyone!